Daydawn Advocacy Centre
Director: Mr Mark Reidy
Postal Address: PO Box 8750,
Perth Business Centre, WA 6849
Telephone: 08 9218 8035
Facsimile: 08 9218 8027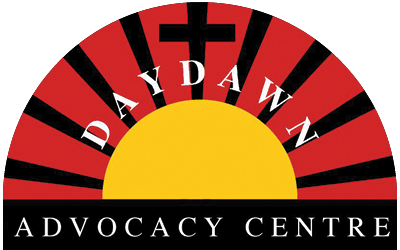 Daydawn Advocacy Centre helps and assists Aboriginal people who are at the risk of eviction from public or private housing or are experiencing homelessness.
Clients are referred by parents, grandparents, friends, Government departments, welfare agencies, hospitals and a variety of other organizations. The majority are women who are mothers, grandmothers or aunties, most have children or have taken in family members' children.
Daydawn Advocacy Centre also assists with a variety of other issues impacting the lives of Aboriginal families and individuals including advocating, lobbying and negotiating with government and non-government agencies, utility services, legal services, medical services and others when required.
The centre is open Monday to Thursday from 9.30am to 1.00pm. No appointment is required, we offer a 'walk in' service.
As an agency of the Catholic Church, Daydawn Advocacy Centre is involved in reconciliation initiatives, in addition to networking with Aboriginal leaders and other Aboriginal organisations.