Bishop Sproxton Hosts Liturgical Service for Parish Priests and Appeal Representatives – Archbishop's 2023 Christmas Appeal for LifeLink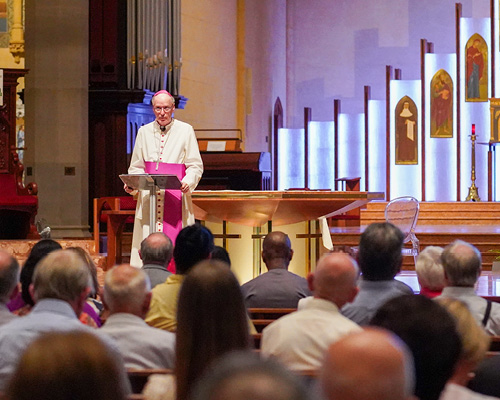 Auxiliary Bishop (and Chair of LifeLink) Donald Sproxton warmly welcomed 120 parish priests, parish representatives and invited guests to a special Liturgical Service at St Mary's Cathedral on Thursday 2 November 2023.
This annual Service is an opportunity for the Bishops to thank all those who support and assist the Archbishop's Annual Christmas Appeal each year. Without the enthusiastic and generous support of parish priests and parishioners, this appeal would simply not be possible or as successful as it is.
Bishop Don kindly hosted the launch this year as Archbishop Costelloe prepared to return to Australia from Rome following the conclusion of the First General Assembly of the Holy Father's Synod on Synodality. The Archbishop was honoured to have been appointed by Pope Francis to assist him as one of the nine president-delegates for the Synod.
This important appeal provides more than 60% of the funding the Archdiocese delivers for welfare services each year. The Archbishop's Christmas Appeal for LifeLink is also the only fundraising event conducted in parishes each year to help financially support the important work of the Church's welfare agencies in this Archdiocese.
Biship Don said, "Last year, our appeal was a major success thanks to so many people digging deep and giving what they could to help our brothers and sisters in need. Together, we raised $ 686,288 which was above our appeal target. What a remarkable and generous outcome.
This year, I know that many people are experiencing financial hardship. Every day, our LifeLink welfare agencies are responding to desperate calls from families unable to provide sufficient food or to pay electricity, water, or gas accounts, from single parents and victims of domestic violence unable to secure rental accommodation and forced to seek night-by-night accommodation or resort to living in their cars, from the elderly who are making choices between turning on heating, buying food, or filling a much-needed prescription.
If we are to continue to answer these calls for help from the community, we must raise a minimum of $650,000 this Christmas.
In his message for World Day of the Poor, Pope Francis reminds Catholics around the world:
"Do not turn your face away from anyone who is poor."
I ask each and every parishioner throughout this Archdiocese to continue in our shared mission of care to those who reach out to us for help. Let us turn our faces towards our brothers and sisters in need."
Photo Credit: With thanks to Michelle Tan from the Archdiocesan Communications Office.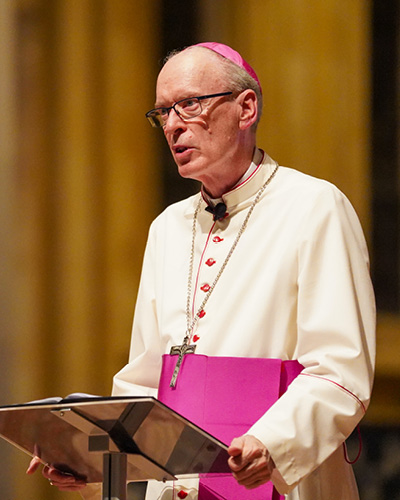 The Archbishop's Christmas Appeal will be launched in parishes throughout the Archdiocese on Saturday 11 and Sunday 12 November 2023.
We ask for your generous and compassionate support.