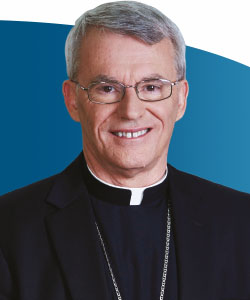 Welcome to my '2022 LifeLink Day for Catholic Primary Schools' initiative.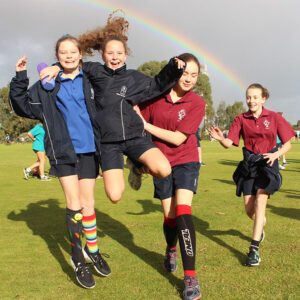 Once again, as a result of COVID 19 restrictions, I have unfortunately had to cancel both the secondary and primary school launch events. Bishop Don and I are of course disappointed not to have the opportunity of meeting with you in person.
However, we do hope that as many schools and students will log-in for our special Webcast Launches. These webcasts via Microsoft Teams will be generously facilitated by our much-valued partner – Catholic Education WA. My sincere thanks to Dr Debra Sayce, Executive Director, and all the team at CEWA for making this possible.
I want to acknowledge the outstanding effort our Catholic schools made last year to undertake some form of fundraising in support of LifeLink Day. I am delighted to announce that, together, you helped raise $138,363.00 which is a truly amazing result and well above our target. 
Congratulations and thank you to all who gave so generously.
---
Now onto LifeLink Day 2022 which will officially be launched on Wednesday 8 June 2022.
A reminder that whilst the annual launch date of LifeLink Day is the first Wednesday in June each year, schools may choose to participate in the LifeLink Day programme and conduct its fundraising event at any time during the school year.
LifeLink Day provides a wonderful opportunity for students attending Catholic schools within the Archdiocese of Perth to join together to show their support for the many Church social service agencies – agencies which on behalf of us all, reach out to provide practical care and direct assistance to thousands of people in need each year.

37,000 Western Australian families and individuals each year depend on our LifeLink agencies being there at their time of need. On LifeLink Day, our brothers and sisters in need are depending on YOU…and everyone at YOUR SCHOOL.
Our fundraising goal for this year is to raise a minimum of $130,000. Given the tremendous result last year, I am hopeful we can do so again.
I wish you all every success and hope you enjoy participating in LifeLink Day 2022.
Thank you for your enduring support and compassionate embrace of our brothers and sisters in need.
Yours in Christ,
Archbishop Timothy Costelloe SDB

PRIMARY SCHOOLS
F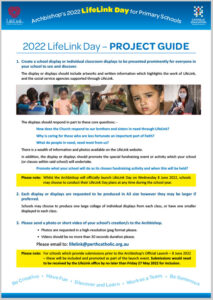 or LifeLink Day 2022, Archbishop Timothy and Bishop Don have invited Archdiocesan primary schools to participate in a special project, one which encourages students to learn more about the wonderful work of our LifeLink agencies and engages their creative talents.
Students are asked to make a gold coin donation in support of LifeLink Day 2022 or to participate in some form of special fundraising event which we ask each school to host.
Every primary school is warmly invited to join the Archbishop, Bishop and Dr Debra Sayce online for the Official Launch of LifeLink Day on Wednesday 8 June 2022 commencing at 10.00am.
Hopefully, we will be able to share some of the creative projects from a few selected schools during the launch.
---
We have pleasure in providing the following resources to help you and your school participate fully in LifeLink Day 2022. Personalised posters for each school have been forwarded to your principal.