On Wednesday 2 June 2021, over 400 representatives from more than 70 Archdiocesan primary schools were warmly welcomed to the Newman College Auditorium for the Archbishop's Official Launch of LifeLink Day for Primary Schools 2021.
Joining Archbishop Costelloe SDB, Auxiliary Bishop Donald Sproxton and Executive Director Catholic Education WA, Dr Debra Sayce, for this event were special guests including:
Br Peter Carroll, Provincial Leader of the Marist Brothers
Rev Fr Kazimierz Stuglik, Parish Priest, Floreat/Wembley.
Mr Daniel Lynch, Executive Director, Office of the Archbishop
Dr Christopher Cotter, Director, Religious Education, CEWA
Mrs Diana Alteri, Team Leader, Religious Education & Faith Formation Team, CEWA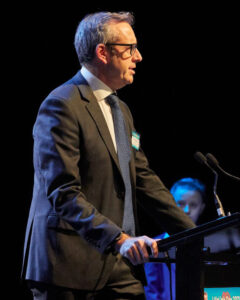 Mr John Finneran, Principal, Newman College, began with an official welcome to everyone attending the Archbishop's Launch of LifeLink Day and then introduced Anabel Raguseo and Brayden Lim, Year 6 Student Leaders from Newman College who led the 'Acknowledgment of Country'.
In his opening remarks, Mr Finneran said, "Newman College is a Catholic School educating in the Marist tradition. At the heart of our charism is our commitment to our family spirit by how we are present to each other. I hope you feel that today."
Bishop Don, Auxiliary Bishop of Perth, and Chairman of LifeLink, offered words of welcome and invited guests to share in The LifeLink Prayer – A Prayer for Charity.
A highlight of this year's launch was a special dance performance by the Year 5 and Year 6 students who were introduced by Mr Simon Martino, Director of Mission and Catholic Identity at Newman College.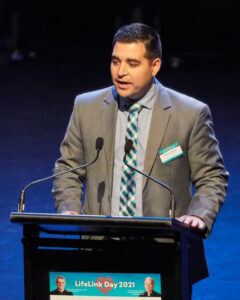 Mr Martino said, "Our Newman College Junior Dance Troupe, made up of Year 5 and Year 6 students, has been working hard with their teacher, Ms Amy Raveendrakumar, to create a dance piece that reflects the plenary theme and the Archbishop's theme for LifeLink Day this year… "How is God calling us to be a Christ-centred Church in Australia that is a joyful, hope filled and servant community?"
The dance was simply fantastic as you will see for yourself in our Launch Video on this website.
On behalf of LifeLink, we want to express our sincere thanks and congratulations to Ms Raveendrakumar and the Newman College Junior Dance Troupe for helping make our launch such a memorable and enjoyable occasion.

In the Archbishop's Address and Official Launch of LifeLink Day for Primary Schools, he spoke of his role as President ad Chairman of the Plenary Council and how we can all be a part of the Church's conversation by asking ourselves –
"How is God calling us to be a Christ-centred Church in Australia
that is a joyful, hope-filled and servant community?"
Archbishop Timothy congratulated and thanked all the primary schools and students which provide such enthusiastic support for LifeLink Day each year and offered a special Blessing that our fundraising efforts ion 20021 be successful so that we may continue in our mission of caring for people in need within the community.
After the official launch and speeches, guests were treated to a delicious morning tea – an opportunity for developing inter school relationships and for Archbishop Timothy, Bishop Don and Dr Sayce to chat with their many guests.

LifeLink Day 2021 PROJECT FOR PRIMARY SCHOOLS
For LifeLink Day each year, the Archbishop asks primary schools and students to participate in a special project, one which builds greater understanding about the work of the LifeLink agencies, and how the Church responds to people in need in the community.
These projects, we hope, also provides an opportunity for you to show your creativity in a fun and imaginative way.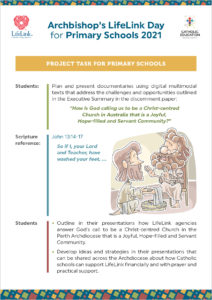 For LifeLink Day this year, schools and students were invited to create a digital multimodal presentation which responded to these key questions: –
How do LifeLink agencies answer God's call to be a Christ-centred Church in the Perth Archdiocese that is a Joyful, Hope-filled and Servant Community?
What ideas and strategies can you suggest about how Catholic schools can support LifeLink financially, and with prayer and practical support.
Whilst many schools will undertake the development of their school's project in Term 3 or Term 4, we have been delighted to receive quite a number of videos and other media items from our talented primary schools already.
A HUGE thank you to each and every school for the wonderful, creative and brilliant work you have all done…you should all be very proud.
We are delighted to share each and every school's project with you here… please enjoy.
---
VIDEO
Experience and enjoy the Archbishop's Launch of LifeLink Day 2021 with this event video which includes captioning and Auslan.
---
LAUNCH PHOTOGRAPHS
We warmly invite you to view some of the fantastic photos from our launch this year.

SCHOOL VIDEOS AND PROJECTS
We warmly invite you to view the Primary School Videos and Projects.